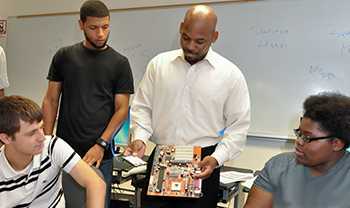 Information technology is a very broad and diverse field. It can be used in many different industries, and it has many different roles to fill. Information Technology provides the backbone for how businesses operate today. As such, an IT degree can provide you with the knowledge required to make good decisions when it comes to information systems design, implementation and management of these systems. Read on to find out more about the requirements of getting an Information Technology Degree, as well as explore some careers available within the industry that are currently hiring qualified candidates!
Information Technology Program
An intensive program dealing with the IT Program Industry. The program begins with an introduction and overview of IT Training. In the course, the student will have  an opportunity to become familiar with the scope of the Information Technology Industry, as well   as the software and hardware tools used in this fast-growing field. Students will be exposed to core courses in Mathematics review, PC Office Applications, Success Skills, and Introductory courses in Networking and Programming.
These courses will help the student decide which of the two specializations they would like to pursue, as the IT industry has become more specialized or skill-based. It is important that IT graduates be more specialized in their careers.
The IT program prepares students' foundational skills needed to begin a career in the Information Technology 
field. Networking Specialization students will develop an understanding of hardware, software, organizational environments, and networking systems applications. Students will also have the ability to communicate effectively and to learn more about communications equipment.
The Programming Specialization develops a wide range of programming skills, including the basic concepts of computer programming, the "building blocks of programming", and will give the programming students the opportunity to learn the two most popular programming languages in the business world today. Students will learn to develop PC applications, web applications, and database-related applications.
Information Program is an umbrella term for all forms of technology used in business, industry and education. Information Systems Management deals with the acquisition, storage and retrieval of information as well as communication among people about data using networks. Computer Engineering focuses on hardware design and software development while Computer Science encompasses a broad range of topics from theoretical to practical applications.
Information Technology Degree is a program that prepares individuals to identify, design and implement information systems in various industries. The degree includes coursework on the architecture of computer hardware, networking technologies, management of IT assets such as networks, servers and storage devices.
Information Technology School
The field of Information Technology Program (IT) is one that will always be in need.
According to the Bureau of Labor Statistics (BLS) the following: "Employment for computer and information technology occupations is projected to grow 17 percent from 2016 to 2026, faster than the average for all occupations."
There are many different opportunities within IT, including IT support specialists, network architects, and software engineers.
You can obtain Information technology training at ITI Technical college.
There are a range of opportunities within IT including: Information Technology Support Specialist, Network Architect and Software Engineer.
Information Technology Career Requirements
There are many different levels of information technology training, but a four year degree in an IT Management System field is usually required to work as an analyst or programmer for most businesses.
The requirements of IT Training will be to get a bachelor's degree in computer science. Information Technology is not an easy field and you need the right training to succeed. There are many options for getting an education in IT with different titles and all programs at bachelors level or above have courses such as:
-Introduction To Computers
– Data Structures And Algorithms (Computer Science)
–Software Engineering Principles
-Networks & Systems Administration
-Computer Design Techniques
-Computer Architecture
-Digital Logic Design
-Systems Analysis & Design For Information Systems
Information Technology Jobs
Information technology is a broad field that includes many different disciplines. Information technology (IT) professionals are responsible for the security and maintenance of computer systems by creating backup copies, installing updates, upgrading hardware and software as needed. They also ensure network connectivity to allow users to interact with internal or external applications.
Information Technology encompasses many different areas that can include networking and security such as cyber 
crime and hacking. There are so many benefits for someone to earn an IT degree.
Information Technology professionals use this knowledge in order to develop, maintain, support or protect computer systems that store information for companies or governments. IT specialists perform tasks such as installing new hardware and software; designing websites; upgrading networks; troubleshooting problems with equipment or devices connected to a network; writing code so programs function properly on different types of operating systems or mobile phones.
Information technology (IT) is not just for IT professionals who often work in areas such as finance, science, law enforcement or healthcare – but any field that uses information systems to process data. These days computer scientists are needed more than ever before because of new technological developments including artificial intelligence.
For more information about graduation rates, the median debt of students who completed the program, and other important information, please visit our website: https://www.iticollege.edu/disclosures.htm
References and resources:
Associate in Occupational Studies Degree Program IT40T
Major Occupations for which graduates will be qualified:
APPLY
NOW
PROGRAM
DISCLOSURES