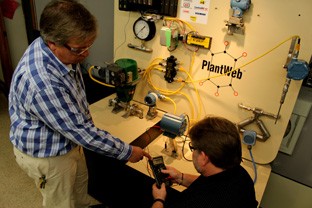 Instrument and control system technology is a future-oriented profession, with excellent career opportunities. Instrument and control system engineers are responsible for the design, construction, installation and operation of systems that collect data from physical processes or convert it into digital information. Instrumentation engineering is one of the most rapidly growing fields in engineering today due to its wide range of applications in many industries. Instrumentation Engineering Technology has been designed to provide students with an understanding of all aspects related to instrumentation engineering: theory, design, analysis and experimentation as well as practical skills in various trades such as electronics fabrication and software development.
Graduates will be prepared to install, maintain, & troubleshoot equipment as an entry-level Instrumentation Electrical Technician, Instrument Fitter, Instrumentation Repair/Maintenance Technician, Analyzer Technician, Assistant Instrumentation Designer, or Instrument Sales Representative in the fields of industrial instrumentation, environmental disciplines, instrument sales or industrial analyzers.
Instrumentation and Control system technology Program
Instrument and control system technology is a program that you can enter at an Associate degree or Certificate level.
Some programs may take 24 months to complete,  Instrument and Control System Technology is offered as both an over-the course of four semesters on campus for students who already have some postsecondary education, such as those with diplomas from college technical programs in science technologies, computer systems technicians or engineering technologists courses; or it may be taken by distance learning: one semester per year  for two or three years.
The admissions for the Instrument And Control System Technology Program can be inquired about by speaking with a representative ITI Technical College. The admissions process is not one that will take much time, as it is only asking some basic information from you to document your interest in enrolling into this program. There are no fees associated with application; however, there may be an entrance exam required before acceptance into the coursework or degree completion courses.
Instrumentation and Control System Technology School
Instrumentation and control engineering is a subfield of electrical engineering that deals with the design, installation, operation, and maintenance of systems. Instrumentation (instrumentation controls) involves metering, sensing and controlling physical quantities such as pressure, temperature, flow rate etc., for measurement or control purposes. Instrument systems used in measurement applications are called instrumentation while instrument systems used to control equipment are called process control .
Control engineering uses sensors and actuators to regulate the performance of mechanical equipment such as motors.
 The main difference between Instrument Engineers and Control Engineers is related to the application they work on. Instrument engineers are mostly involved with measuring equipment and Instrument Systems Applications – Sensors & Transmitters , whereas Control Engineers have more hardware responsibilities in Process Automation & Instrument Control – Instrumentation Systems and Process Automation .
Instrument Engineers use sensors, transmitters, actuators, controllers and data acquisition systems to measure the performance of equipment such as motors, turbines or other machinery. Instrument engineers generally work on projects that measure either physical properties such as temperature, pressure or flow or electrical signals like voltage , current and power. Instrument engineers work in a very wide range of industrial sectors: energy (oil/gas/renewables), pharmaceuticals , chemicals , food processing , transport equipment (cars), aerospace etc.

Instrumentation and Control System Technology Training
Instrumentation and control engineering is an industrial sector which involves the design, manufacture, installation and maintenance of systems used to monitor variables such as pressure, temperature, flow and level. Instrumentation refers to measuring equipment that are designed specifically for use in various applications. The term controls refer to devices or mechanisms that regulate these processes. Instrumentation engineers specialise with instruments that measure physical phenomena like vibration (tremor), density (mass) or electrical current whereas control engineers concentrate on controlling such instrumented processes using automatic actuation. Instrumentation and Control Engineering Instrumentation deals with measurement technology while control deals with its application in order to control a process or system. Instrumentation Engineers work closely with computer scientists in both hardware and software development as well as
Instrumentation and Control System Technology Jobs
The Instrument 
and Control System Technology (ICS) curriculum prepares graduates to take a leadership role in the design, construction, maintenance and operation of industrial Instrumentation and Control Systems. This includes Instrumentation for environmental control systems and Instrumentation for all types of process control. ICS technology  graduates are also qualified to work as Instrument and Control specialists in all types of manufacturing industries. Graduates will possess the skills needed for employment opportunities with Instrumentation companies, Instrumentation service firms, Consulting Engineering and Design (CED).
For more information about graduation rates, the median debt of students who completed the program, and other important information, please visit our website: https://www.iticollege.edu/disclosures.htm
Instrument & Control Systems Technology (AOS) Training School –
Associate in Occupational Studies Degree Program IC10T
Major Occupations for which graduates will be qualified:
Classification of Instructional Programs - Occupational Title
Standard Occupational Classification /O*NET Code
Classification of Instructional Programs - Occupational Title
CIP Code
15.0404 – Instrumentation Technology/Technician
Standard Occupational Classification /O*NET Code
APPLY
NOW
PROGRAM
DISCLOSURES